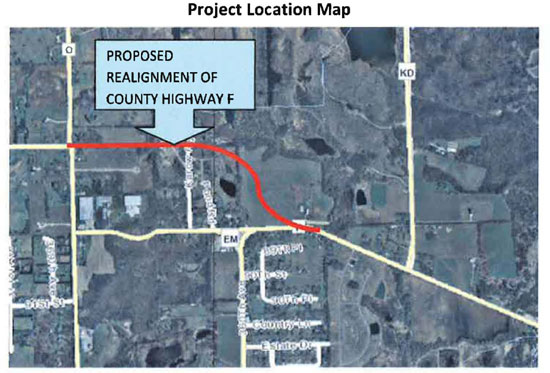 A draft resolution opposing the relocation of county Highway F in Randall just north of the village border was tabled at Monday's regular Twin Lakes Village Board meeting.
Trustee Barbara Andres raised the issue of the village opposing the road project at the committee of the whole meeting July 6. She called the project a waste of money that would not improve safety and would take some property and homes.
The county is proposing reconstruction and relocation of Highway F from Highway O to Highway EM. Information provided via email to westofthei.com by county Director of Division of Highways and Highway Commissioner Gary Sipsma says the project will eliminate the existing split intersections of Highway F and Highway O creating one intersection located at the existing northerly location. In addition, the existing intersection of Highway F and Highway EM, known as the Triangle, will be reconstructed. An access to the county park located north of Highway F will be constructed. A multi-use asphalt path will also be constructed extending from Lake Avenue in Twin Lakes to Randall School.
Village administrator Jennifer Frederick presented for the board's consideration a resolution opposing the project.
But some board members Monday seemed to think the position in the resolution was too harsh. Instead, they said they felt it might be better to try to influence the project so that it benefited Twin Lakes as much as possible.
"How do you take a completely negative stance and still get a voice at the table?" said Trustee Aaron Karow.
A point of concern for even those board members inclined to soften the resolution's stance was the current intersection of Highway EM and F, popularly known as the Triangle. Board members said they felt being involved in the process might help ensure traffic flow to the village is not disrupted by the new intersection.
Village President Howard Skinner tabled the matter until more information can be obtained from the county.
The Randall Town Board also discussed the issue two weeks ago, developing a consensus opposed to the project. However, town board members wanted to wait for Twin Lakes' action in order to possibly present a united front.