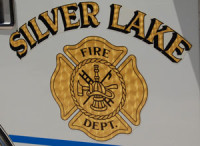 The Silver Lake Village Board approved spending as much as $28,000 on new pagers, portable radios and handheld radios for the Silver Lake Fire Department.
The action was approved by a 3-1 vote. Trustee Carolyn Dodge voted against the motion. Trustees Pat Dunn, Roger Johnson and Daniel Withers were absent.
After objections arose to just one bid from RD Electronics being submitted, the approval was made contingent on the village getting two other bids. Village policy calls for purchases of over $1,500 be made  from three bids.
Village President Bruce Nopenz defended going ahead with the purchase despite the fact the village is entering negotiations with Salem to cover the village for fire protection and emergency medical services.
"They're in a position that they need to protect the village," Nopenz said of the village fire department. "Negotiating with Salem may take six months."
Assistant Chief Roger Pattie said the department's radios have been malfunctioning more lately, causing the department to seek repairs. They were then informed that the radios, besides being not repairable, are wide band units, which were supposed to be replaced as of January 2013.
If the Federal Communications Commission chose to, it could implement a $16,000 a day fine until the village replaced the wide band radios, Pattie said.
Fire Chief Allison Draeger elaborated in an email to westofthei.com:
We needed to purchase this equipment because it is now a life safety hazard. We have had issues on every call where we cannot hear each other transmitting including other agencies and there are several times when Kenosha County Dispatch cannot hear us. This is dangerous. This request was not submitted lightly. There were many hours put into this to make sure the radios chosen were cost effective, compliant, included upgrade capabilities and most importantly, contributing to the safety of the members on the SLFD."
Dodge raised the multiple bids issue. She also offered to see if the radio communications company used by the Silver Lake Rescue Squad, of which she is a member, could take a look at the radios to see if they could come up with a solution for the fire department radio's problem.
Pattie said there is enough money in the fire department budget to cover the costs, however funds may need to be shifted into one FD account.