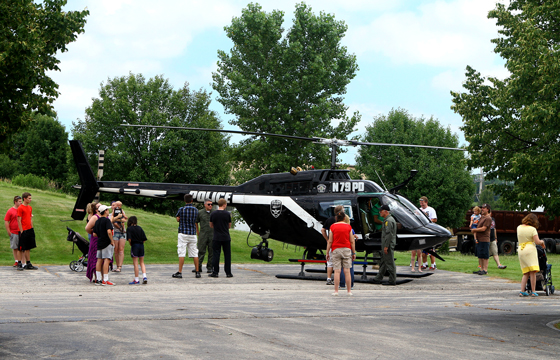 Air-One, one of the specially equipped helicopters for protective services, visited Bristol Progress Days. It flew over the parade and landed near the end of the parade route. The helicopter and crew stayed for a couple for hours so people could see the helicopter and ask questions.
The helicopter typically responds, when agencies request, to disasters, lost persons, felonies in progress, and large fires. It is staffed by volunteers from law enforcement, fire departments and aviation. They are not operated by any particular law enforcement agency, but they are coordinated and dispatched through Winthrop Harbor Police Department.
It is a non-profit organization. Air-One Emergency Response Coalition, Inc. has to raise money for its fuel, parts, maintenance, training, insurance, hangar, and specialized equipment.