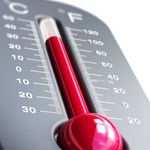 A warm-up to more seasonably warm temperatures should begin Friday, says the local National Weather Service forecast.
The high temperature Friday should be 79, with the same Saturday. Sunday should get into the low s.
The longer range forecast calls for temperatures to remain in the high 70s, low 80s through at least Thursday.
The highest chance of rain will come Saturday night, with a 70 percent chance of showers and thunderstorms.