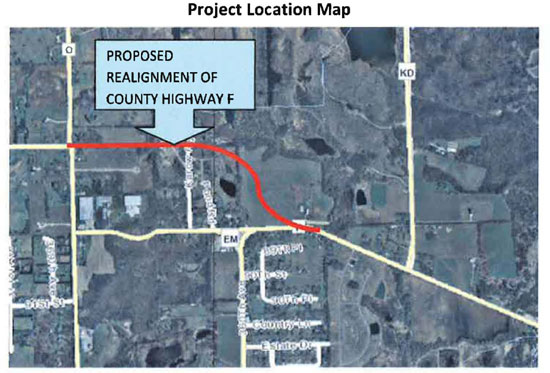 The Randall Town Board will be sending a resolution to Kenosha County opposing a proposed realignment of Highway F through the town.
The Town Board unanimously approved (with Supervisor Lauren Fox absent) that action at its regular meeting Thursday night.
The county is proposing reconstruction and relocation of Highway F from Highway O to Highway EM. Information provided via email to westofthei.com by county Director of Division of Highways and Highway Commissioner Gary Sipsma says the project will eliminate the existing split intersections of Highway F and Highway O creating one intersection located at the existing northerly location. In addition, the existing intersection of Highway F and Highway EM, known as the Triangle, will be reconstructed. An access to the county park located north of Highway F will be constructed. A multi-use asphalt path will also be constructed extending from Lake Avenue in Twin Lakes to Randall School.
Sipsma continued:
Highway F has multiple deficient components including sub-standard horizontal curves, substandard shoulder width, sub-standard clear zone widths adjacent to travel lanes, excessively steep slopes and sub-standard intersections. The split intersections on Highways F and O are problematic from an inefficient traffic operations standpoint and also a traffic safety standpoint. Combining the intersections will improve traffic flow efficiency and improve safety by bringing the one new intersection into current design standards for sight distance and turning movement. This project has been planned since the 1970s. The new alignment has been included in the SEWRPC Regional Transportation System Plan since that time and is included in the most current plan."
The estimated cost of the project including engineering and construction is $3,482,458 ($3,100,000 for construction and balance involves engineering activities). This amount will be funded with 80 percent federal funds and 20 percent county funds.
Earlier in the Randall meeting, the board heard from 12 audience members who opposed the project. Most argued that the new routing of Highway F would not be safer and was unnecessary. Concerns about people losing homes, harm to the county dog park near Highways EM and F and the county park to the north of the project also were expressed.
"We feel this is a waste of our money and taxpayer dollars," said Megan Swederski, a Karow Road resident who is organizing a petition drive opposing the project (online version here).
After the public comments, all board members present also said they opposed the project.
Supervisor Mark Halvey said: "Those types of roads where you have to turn are all over the state …. there's nothing you can do about it. You just have to follow the road. Personally I am against it. The money could be spent for something else … it's too much money with not enough benefit."
Supervisor Bob Gehring said: "I think it's going to be a hazard. I haven't seen a lot of accidents on that road."
Supervisor Randy Kaskin said: "I am opposed to it. I think it's a huge waste of money."
Chairman Bob Stoll said: "The need just isn't there. I just don't think we should be taking on a project of this magnitude" just because federal money is available.
Twin Lakes village Trustee Barbara Andres was in attendance at the Randall meeting and pointed out that the Twin Lakes Village Board will be considering a resolution opposing the project after discussion at a Committee of the Whole meeting Monday. Stoll suggested Randall use the same or a very similar resolution as Twin Lakes to show a united front.
A document provided to westofthei.com by Sipsma includes the following schedule for the project: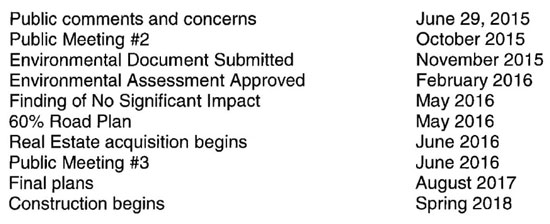 The whole report on the project provided at the June 29 public meeting is available here.