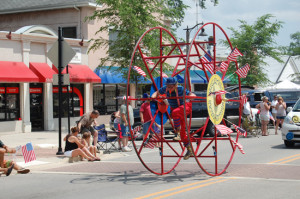 Note: Twin Lakes Chamber and Business Association is a westofthei.com sponsor. — DH
Twin Lakes annual summer celebration, Libertyfest, is set for Friday, July 3 and Saturday, July 4 this year at Lance Park in Twin Lakes.
The for all ages event is organized by the Twin Lakes Area Chamber and Business Association.
Highlight of this year's event include:
Mandy Z & Rural Route 1, Country Music from 5 to 7 p.m. on July 3.
Twin Lakes own Megan Ruger from the Voice 8 p.m. to Midnight on July 3.
Fireworks at dusk (new night) on July 3.
Grand Parade from Legion Park to Lance Park starting at 11 a.m., July 4.
Pawfest Dog Contests, 1 to 4 p.m. July 4.
Duck races, 4 p.m., July 4.
Ari Castronovo, Nashville's new "It Girl" performs at 7:30 p.m., July 4.
Bella Cain will Rock the Night from 9 p.m. to midnight July 4.
There's much more scheduled. Click here for full details.