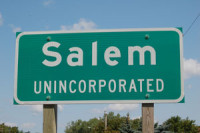 A special meeting of Salem electors will be held Monday, June 29 starting at 7 p.m. at Town Hall, 9814 Antioch Road (Highway 83), Salem.
The agenda includes just one item, a presentation on the findings of the Town of Salem Incorporation Study Committee.
The committee was formed after an initiative at the April 2014 annual meeting. The group was charged with examining all aspects of the town incorporating as a village.