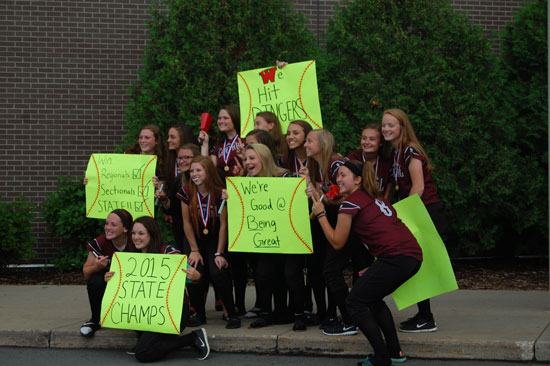 The Central High School softball team, coaches, parents and other fans celebrated the team's state championship with a parade and pep rally Monday evening.
Rain held off while the parade made its way through the neighborhood near the school in Paddock Lake.
Then it was inside for a pep rally in the cafetorium. Here is video of the introduction of the team by athletic director Jonathan Lindh:

While other teams saw the Falcon line-up as one of offensive strength, Coach Tom Lampe said he and Coach Konnie Lampe felt the team's strength was its near flawless defense. In short, the Falcons were the definition of well-rounded.
"We had a lot of different was we could come at you and beat you," Tom Lampe said.
The Falcons also won the state championship in 2013. They lost the state championship game in 2014 by one run in 15 innings.
With only two seniors leaving the team, Lampe said the Falcons wil likely be the favorite to repeat next year. But that, he said, will take hard work by the team.
"If you really ant the second one, then you have to commit yourselves like you did his year," Tom Lampe said during the rally, praising all the extra time the team put in on developing their skills. "We're not saying we're going to win the state title. We're saying hard work puts us in the conversation."
Here are some more photos from the parade and rally: