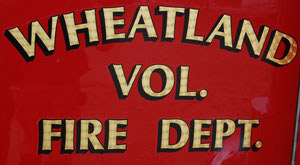 The 46th Annual Town of Wheatland Fire Department Festival will take place June 19-21 at New Munster Park.
This event includes food, fun and refreshment for all.
Here is the lineup of activities for the weekend:
Softtball tournament – Friday 6 p.m. and continues Saturday and Sunday at 10 a.m.
Live music – "Lunchmoney Bullies" 8 p.m. – midnight, Friday. "Bella Cain" from 9 p.m. – 1 a.m. Saturday with a $5 cover charge.
Parade – Saturday 1 p.m.
Water Fights – Businessmen's water fights – Saturday 2 p.m. Fire department water fights- Sunday 2:30 p.m.
Baggo tournament – Saturday 10 a.m.
Children's Activity – Saturday and Sunday 11 a.m. – evening — $10 Lunch with drink and unlimited access to a "bounce house" that is 62′ long x 14′ tall and three lanes wide with one lane separated for smaller children. Adult supervision provided.
Father's Day Photo – Sunday . Father with child decked out in small size firefighter gear will be taken standing on the step of a fire truck. Pictures e-mailed. No charge.