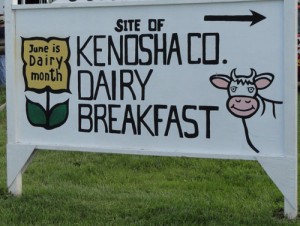 The 2015 Kenosha County Dairy Breakfast will take place on June 20 at Herda Farms LLC, 4602 Highway 83, in Wheatland.
This annual event includes: a big farm breakfast, milking demonstrations, a Wisconsin products tent, old-fashioned children's games and more. The event takes place from 6:30 to 10:30 a.m.
The breakfast will include scrambled eggs with ham and cheese, pancakes, fresh bread and butter, yogurt, muffin, milk, juice, and ice cream. There is no cost to tour the farm. The breakfast price is $6 adults, children 6 and under are free.
Only in the event of excessive rain, there will be a shuttle bus available from Central High School, 24617 75th St., Paddock Lake, Wheatland Center School, 6606 368th Ave, Wheatland, and Karcher Middle School, 225 Robert St, Burlington.
Kenosha County Executive Jim Kreuser is organizing the DairyAir Dairy Breakfast ride to the dairy breakfast. More information on that event is available here.