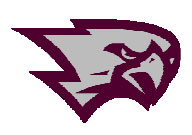 The Central High School Falcons softball team is in a quarterfinals battle at the state tournament Friday.
At about 3:05 p.m., the Falcons are in extra innings against Chippewa Falls. The score is tied at 1 run a piece through eight innings.
UPDATE 3:19 p.m. — Falcons have a big top of the 9th inning and score three runs. Chippewa Falls up to bat now.
UPDATE 3:24 p.m. — Chippewa Falls scores no runs in the bottom of the ninth, so Central advances to the semi-finals. That game is scheduled for approximately 11:30 a.m. at Country View Elementary in Verona. The championship game is also scheduled to take place Saturday between the winners of the semifinals games at 6:30 p.m. at Goodman Diamond, Madison, the site of today's game.