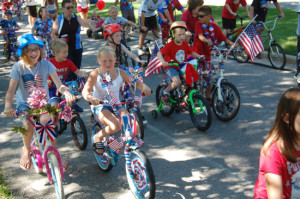 Paddock Lake will host its annual July 4th Bike Parade on Saturday, July 4.
Residents of all ages are encouraged to participate with a bike decorated for the holiday. Parade line-up will take place at 9:30 a.m. at McAlonan Park, 248th Avenue between 72nd and 73rd Streets.
The parade will start at 10 a.m. The route will proceed north on 248th Avenue to 61st Street, then east to 236th Avenue, then south to Village Hall.
After the parade, there will be hot dogs, chips, lemonade and prizes for parade participants.
In addition to the parade, this year village officials are looking for information and photos from the first village bike parade or other past parades. If you have something to contribute, contact Michelle Shramek, deputy clerk/treasurer, at Village Hall, 843-2713.