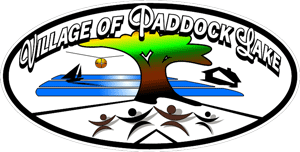 Paddock Lake is expected to contract with the Kenosha County Sheriff's Department for water patrol on Paddock Lake this summer.
The Village Board discussed the matter at a committee of the whole meeting Wednesday.
In the past, the village has operated its own water patrol, but was faced with the possibility this year that there would not be enough sworn officers, prompting approaching the Sheriff's Department, said Tim Popanda, village administrator.
Popanda discussed with Sheriff's Department representatives having off duty deputies, paid at the overtime rate, work 10-12 weeks of patrol on weekends. Some weekday patrol hours may also be needed for holidays. The Sheriff's Department estimated a cost of $7,100 to $8,500. The village had budgeted about $5,100, based on previous years' expenditures. Popanda estimates the village could receive about $3,600 in reimbursement of water patrol from the Wisconsin Department of Transportation.
The deputies will use the village's water patrol boat, but the village will provide gas, oil and maintenance. New Sheriff's Department graphics will be placed on the boat at no cost to the village, Popanda said.
No board members expressed objections to contracting with the Sheriff's Department. Trustee Barb Brenner did say she was surprised the village has not had regular weekday water patrol in the past.
Popanda said details of a memo of understanding governing water patrol by the Sheriff's Department between the village and the Sheriff's Department is expected to be ready for a vote at the regular Village Board meeting June 17.