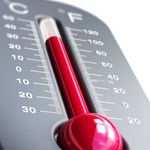 The National Weather Service forecast calls for what might be called actual hot weather Tuesday and Wednesday, with high temperatures in the 80s.
Tuesday the high temp is forecast for 86. Wednesday, it is expected to reach 84.
The balance of the week should see a bit of a drop off, with temperatures dropping back into the 70s for Thursday through Sunday.
The most significant opportunity for rain will come Thursday night and Friday when there's a 70 percent chance of a thunderstorm. A 30-50 percent chance of more storms or rain will continue in the forecast through Monday.