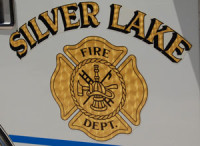 Some of the people in the seats behind the dais may have changed, but Wednesday's discussion by the Silver Lake Village Board of fire and rescue services trod some well worn ground for anyone who has been observing the issue in recent years.
Also not surprising, no consensus on how to handle the future was developed, though village President Bruce Nopenz, newly elected in April, vowed to change that aspect of the ongoing controversy.
"Things have not worked they way we have expected them too," Nopenz said. "We have problems and we need to fix them. With this on my watch, I want to get this resolved."

At the core of the debate Wednesday was the issue of who is in charge of medical calls responded to by the fire department and the rescue squad.
The fire department is operated by the village government, but does not provide emergency medical services beyond a first responder level. The village contracts with Silver Lake Rescue Squad, Inc., a private not for profit company, for EMS.
Fire department officers contend a unified command is called for at medical calls, and fire department personnel should fill that role. Rescue squad representatives contend their medical director and the state EMS oversight entity says the rescue squad should be in charge of the medical aspects of a call.
"Once we are on the scene, we are in charge of the medical call," said Laura Johnson, president of Silver Lake Rescue Squad, Inc.
In recent years, this conflict has most often come up in cases where one entity feels a paramedic squad should be called in and the other feels that is not necessary.
No resolution or agreement on future action was finalized at Wednesday's committee of the whole meeting, but Nopenz strongly suggested that action on the issue is coming.
"Unless we can get this thing working together, we will have to look for another solution," Nopenz said. One possible solution, explored to much controversy in the past, is contracting with Town of Salem Fire/Rescue for fire protection and EMS.
Or maybe, there's still a chance of working our something less drastic.
"We're all grown ups," said SLFD officer Allen Dunski from the audience. "We all need to work together."