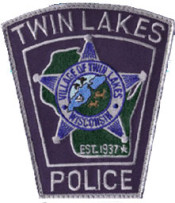 Adam Grosz has been named the new Twin Lakes Police Department chief.
Grosz has been a lieutenant on the department since 2013.
Grosz will replace the current police Chief Dale Racer, who will be retiring on Monday, July 6.
The Twin Lakes Police Commission voted unanimously at a May 27, meeting to offer the police chief position to Grosz. This selection was also predicated on the approval of a financial agreement between Grosz and the Village Board, which was discussed in a closed session at a Special Board meeting on Monday.
From an announcement released by the village:
The Police Commission had conducted a state wide search for a new police chief and narrowed down the candidate pool to six applicants. The applicants participated in a peer interview process with several area police chiefs and then had final interviews with the Police Commission. Grosz was hired by the Twin Lakes Police Department in September 2013 as an administrative lieutenant and then promoted to patrol lieutenant in January 2015. Prior to Twin Lakes, Grosz served with the Rome (Wisconsin) Police Department since 1997, serving as a patrol officer, patrol sergeant and for seven years as their police chief. Grosz has a bachelor's degree in Criminal Justice Administration; is a graduate of the prestige Police Staff and Command School at Northwestern University and served as an adjunct faculty member at Rasmussen College. Although all the candidates interviewed had solid professional backgrounds, the Police Commission felt that Lieutenant Grosz had the experience and leadership ability to ensure a smooth transition as the police department experiences a change of command."