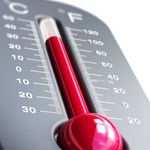 That was a cool weekend for the last days of May.
The National Weather Service forecast says the temrperature should be looking better this week.
The crawl back up form the 50s that we experienced Saturday and Sunday will start slow. Monday's high will be just 61.
But by Wednesday, he high temperature would be back in the 70s and stay there for the balance of the week.
There's no significant chance of rain or a thunderstorm is in the forecast until Friday, with a 50 percent chance of a storm.