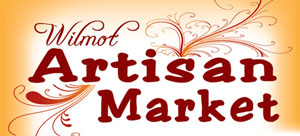 Note: Wilmot Artisan Market is a westofthei.com sponsor. — DH
Wilmot Artisan Market 4th Annual Spring Showcase will take place Sunday, May 31 from 10 a.m. to 5 p.m.
Spring is in full swing and it's nature's way of saying "Let's Party" so stop that spring cleaning and head over to the gallery for a day of fun! Save the Date! Grab your daughter, mother, hubby or some girlfriends and join us for a day of fun! Meet the artists, see new art and watch live demonstrations.
George and Bonnie Evanson will be turning wood. We will have sales and live demonstrations as well.
Wilmot Artisan Market is located at 30723 113th St., Wilmot.