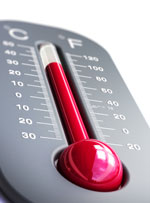 The National Weather Service Forecast calls for a warm, occasionally wet, week this week with high temperatures firmly in the 70s.
Until Saturday, that is. The high temperature that day is expected to reach just 55 on Saturday and 58 on Sunday.
Rain is most likely later today, with the strongest chance being between 1 and 3 p.m.  Significant chances of thunderstorms are also in the forecast for Friday, Friday night and Saturday.