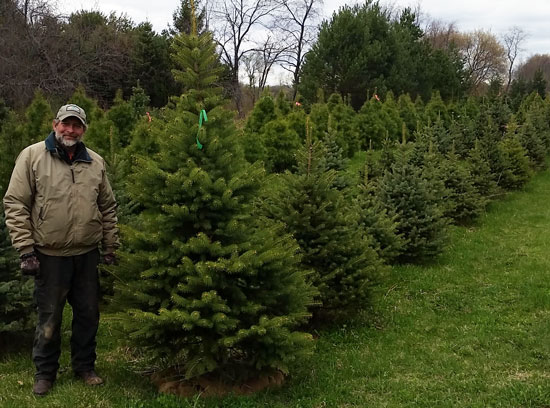 Note: Arbor Hills Nursery LLC is a westofthei.com sponsor. — DH
Arbor Hills Nursery LLC is a high quality and affordable place to buy your next trees.
Mark and Janet Lesko, Arbor Hills Nursery LLC owners,  provide  personalized service from experienced staff (BS degree Biology: Horticulture, Botany). Questions are answered whether or not a purchase results. Questions are also answered after the purchase, anytime, any subject. The Leskos pride themselves on providing the plain truth and honesty along with customer service second to none.
Trees at Arbor Hills Nursery LLC are grown on site from seedlings, nurtured with care and attention for an average of 6-8 years before the sale.
"I would invite anyone to look at our trees to find fault…they would have to look long and hard," Mark said.
Low overhead keeps prices low at Arbor Hills Nursery LLC. Currently, Arbor Hills Nursery LLC is offering Scotch Pine, Norway Spruce, Black Hills Spruce, Colorado Blue Spruce and White Pine. All trees are $10 per foot. (Price list here)
Arbor Hills was founded in 1996 on converted pastureland. The initial concept was to develop a choose and cut Christmas trees business, but quickly Mark and Janet discovered it did not make sense for them to raise the trees with gobs of TLC, only to kill them all. Mark went to small business class, developed a plan for the nursery, gradually obtained the capital equipment ( such as tree spades) and put his plant knowledge to practical use.
"The Lesko family obtains great satisfaction from driving Kenosha, Walworth, and Racine counties, and Lake County, Illinois and seeing our baby trees now gracing people's lawns and property lines as mature stately specimens," Janet said.
Arbor Hills Nursery LLC is located on 368th avenue 1.8 miles south of Highway 50. Hours are evenings and weekends or by appointment. Call 262-537-3192