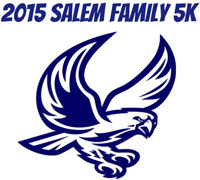 Salem School is hosting a Salem Family 5K Run/Walk on Saturday, May 30. The event is being organized by Salem teachers and the Staff Wellness Committee. Local businesses are supporting the 5K.
The run/walk is scheduled for an 8:30 a.m. start.
Other activities will take place in addition to the run/walk. There will be music, balloon figures, and face painting. An appearance from the Kenosha Kingfish mascot "Elvis" is also planned.
Salem Public Safety will be limiting access to the route during the event. A map of the route is available here.