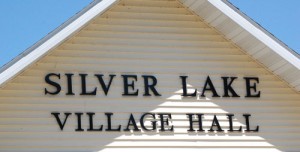 A lease for a village owned building that the Silver Lake Village Board would like to rent to the Community Library got its first extensive public discussion at Wednesday's regular board meeting.
The item was on the agenda for discussion only and no vote was taken.
Village President Bruce Nopenz said the lease in hand Wednesday was a draft provided by the village attorney as a starting point for negotiations between the village and the library.
Trustees quickly locked in on one item in the proposal they feel needs to be changed — the rent.
The draft lease proposes $800 monthly. Several trustees felt that was too low, especially if the library uses all of the approximately 2,000 square foot building, a scenario all seemed to favor.
"I would just assume give the whole building to the library," said Trustee Roger Johnson.
Village officials said the current quarters for the Silver Lake library branch on Cogswell Drive has a $900 monthly rent, for much less space than available on Second Street.
The former childcare facility on Second Street in Silver Lake was purchased by the village for $200,000 with the idea that the other Community Library member municipalities would help pay off the $250,000 loan ($50,000 for anticipated improvement). However, the other municipalities have all decided not to contribute. Since then, village officials have been pursuing renting the building to the library.
The joint library cannot own real estate, but can pay rent.
Nopenz said the draft would be forwarded to the library for their comments.