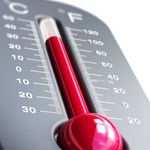 The early summer like temperatures of the last few days will be ending after Monday, says the latest local National Weather Service forecast.
Monday's high is forecast to reach 75. The high Tuesday and Wednesday will be 54.
Temperatures are expected to return to the mid to high 60s  Thursday through Sunday. There's no chance of rain in the forecast at this point until Sunday.