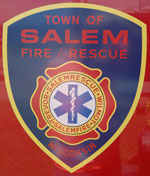 Town of Salem Fire/Rescue Department will be participating in a Fill the Boot Drive on May 22 from 3 to 6 p.m. at Highways 50 and 83 (Brass Ball Corners) to benefit the Muscular Dystrophy Association.
Rain/Emergency date will be May 29.
This year's goal is to raise $1,500.
For 60 years, MDA and the firefighters have been partnered up to fill the boot and fight muscle disease until there is a cure. MDA has been on the front lines in the fight against muscle disease, supporting research to find treatments and cures for over 1,600 local families in Southern Wisconsin, and help fund vital services to our families like free clinic visits, flu shots, and a week at MDA Summer Camp in Kenosha.
Facts about the fight against muscle disease:
More new drugs are planned in the next five years than in the previous 50 years combined.
New clinical trials are underway – four times as many as in the 1990's.
MDA is the number one researcher of muscle disease.
Clinical research networks and disease registries advance the understanding of muscle disease and lead to improved health outcomes.
Any questions, please call: Elizabeth (MDA) 262-432-7992 – Jason or Kyle (TSFR) 262.843.2439