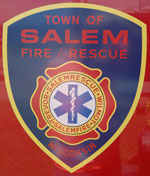 The Town of Salem Fire /Rescue Department will be hosting an American Heart Association Heartsaver CPR /AED course on May 21.
This course is a 3-4 hour course which combines basic CPR skills training with instruction and practice in using an AED. Course covers: Adult CPR/AED with and without a mask, Adult Choking, Child CPR/AED, infant CPR/AED, and Child/Infant Choking. It is intended for individuals who have a duty to respond to a cardiac emergency because of job responsibilities or regulatory requirements, lay rescuers who may need to respond to an emergency in the workplace, family members of patients at high risk for sudden cardiac death, and other individuals who want or need CPR training.
Cost of the course will be $40/person. The course will be held at the Salem Fire/Rescue Trevor Station /Highway Department located just off  Highway C at 11252 254th Ct. Class size is limited to 12 students. You will need to pre-register to assure a spot in the class by contacting Terry Bluemel or a CPR Instructor at 843-2439.
Additional classes will be offered throughout the year and will be posted on the Fire Department section of the Town of Salem website www.townofsalem.net.
Groups that would like to schedule a class together and individuals looking for a self-paced option can be accommodated by contacting the above number.