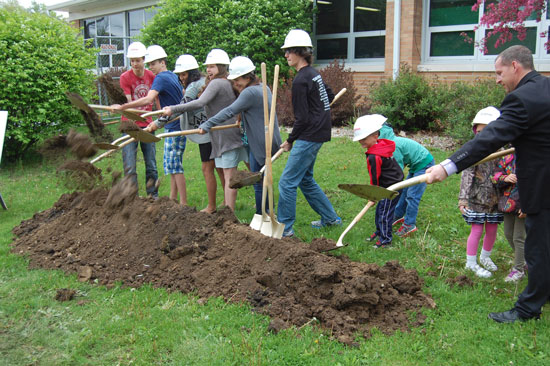 Members of the Lakewood School community held a groundbreaking ceremony for the school's building project on Tuesday.
Clearly the ceremony was lagging behind the actual work as it was plain to see that plenty of ground — and old walls — had already been broken to facilitate the start of the $5.9 million project.
Participating the ceremony were School Board members Kathy Ticha and Patricia Platts, district administrator Joseph Price, select students and staff and representatives of general contractor Scherrer Construction.
Here's some video of the ceremony and remarks from Price:

The project will include: Demolishing and rebuilding a new gymnasium and constructing a new school entrance and office addition; the addition of two new classrooms with a corridor connecting the building and creating a safety enclosure for the courtyard; upgrading the science lab; remodeling the restrooms and offices; replacing and reconfiguring doors and lockers, asbestos abatement, replacing floors and additional remodeling and repairs; site and storm water system improvements; and acquiring furnishings, fixtures and equipment.