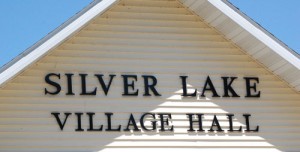 The Silver Lake Village Board kicked around but ultimately rejected going back to two board meetings a month.
As of January, the board has been having one committee of the whole meeting on the first Wednesday of the month and one regular board meeting on the third Wednesday of the month. The committee of the whole meeting is for discussing issues and the regular board meeting for acting on matters through formal votes. Having only one regular meeting also saves the village some money because trustees are paid less for attending committee meetings.
Village President Bruce Nopenz raised the possibility of going back to two regular meetings at Wednesday's Committee of the Whole meeting. He said he felt it might help the village deal with a large volume of business.
"With all the thing that are going on in the village we might get more done with two meetings," Nopenz said.
That posion was supported by some other board members.
Trustee Pat Dunn said he favored going back to two meetings because having votes at only one could slow down how long long it takes to get new initiatives passed.
"We need to keep with the two …," said Dunn.
But other board members defended the current system.
Trustee Roger Johnson pointed out that enough money to pay trustees for two board meetings per month was not budgeted. He also pointed out that some nearby municipalities do not have two regular board meetings in a month.
Paddock Lake, Salem and Twin Lakes also have a committee of the whole meeting and then one regular board meeting each month. Randall, Bristol and Wheatland have two regular board meetings a month. Paris and Brighton have one regular board meeting per month.
Ultimately the board decided to stick with the current structure, utilizing special board meetings where votes could be taken when necessary.