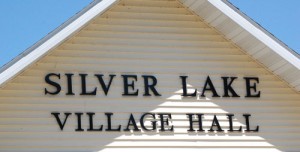 The Silver Lake Village Board agreed in principal Wednesday to a consolidated committee structure proposed by new village President Bruce Nopenz.
The current structure of seven Village Board committees had some overlap, Nopenz said at Wednesday's Committee of the Whole meeting. Instead, he proposed a new set of three committees:
A committee combining the current Finance, Legislative & Administrative and the Economic Development committees.
A committee combining the current Police and Judicial and the Emergency Government committees.
A committee combining the current Public Works and Buildings and the Parks, Public Lands and Library committees.
The village also has a General Welfare Committee but it was not discussed Wednesday.
Nopenz said he decided to re-structure the committees after seeing that the current committees often had nothing to report at village board meetings.
"There's enough going on in the village, there should be stuff to work on," Nopenz said.
Other board members seemed willing to allow Nopenz to try the new configuration.
"Give it a whirl," said  Trustee Roger Johnson, a former village president.
Nopenz will come to the board with new names for the committees and chairman and members at a future date.