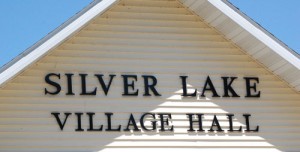 Silver Lake will  be accepting letters from residents interested in filling the Village Board seat vacated last week by Chris Willkomm.
Willkomm resigned by letter citing work and personal conflicts.
Village President Bruce Nopenz said at Wednesday's Committee of the Whole meeting that as president he could appoint someone to the seat, but instead he would like to see who is interested in filling the seat and have the choice be a group decision made by the board.
"I don't want to run a dictatorship," Nopenz said.
In their letters of interest, Nopenz asked that interested individuals express three ideas for their vision for the community.
Appointing people to fill vacant seats on the Village Board has been somewhat contentious in recent years, with people being appointed in split votes with the board faction that held a majority on the board at the time prevailing.
On Wednesday, board members said they wanted to move beyond that scenario.
"I think we can have a decent working relationship with everybody," Trustee Roger Johnson said about the current board. "Hopefully whoever we put in that chair can be the same … we will get more done peaceful than fighting. Whoever we pick we need them to be in with us."
Specifics of when letters will be accepted and how they are to be submitted will presumably be revealed in a formal notice expected to be distributed by the village and posted in the typical meeting notice locations and on the village website.
Related posts
Silver Lake Trustee Chris Willkomm resigns; replacement method undecided