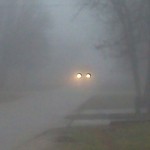 We could see patchy dense fog in our area until mid morning, says the National Weather Service.
Visibility in areas experiencing fog could be less than one quarter of a mile or less.
We should see a high of 70 degrees today, with just a 20 percent chance of more rain, the NWS forecast says.