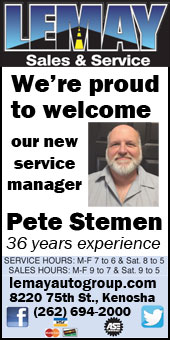 Note: LeMay Sales and Service is a westofthei.co sponsor. — DH
LeMay Sales and Service in Kenosha welcomes Pete Stemen to its staff as service manager.
Stemen has 36 years of automotive service experience, working much of that time in Western Kenosha County.
The LeMay family has been serving Kenosha's car care needs for over 50 years and have recently opened a new sales and service facility to better service you. They have a fantastic selection of pre-owned vehicles along with the same great service department you would expect. Both sales and service have hours six days a week, Monday through Saturday.
LeMay Sales and Service is located at 8220 75th St., Kenosha. Sales: (866) 689-1492; Service: (888) 861-4906.