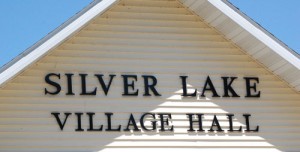 At her last meeting as Silver Lake village president, Sue Gerber Wednesday attempted to slate a referendum on whether the village should eliminate its own police department and contract with the Kenosha County Sheriff's Department for police protection.
Gerber made a motion to hold the referendum after reading a statement regarding Tuesday night's public hearing on the sheriff's department proposal.
In her statement, Gerber said the issue of dissolving the police department was too important to be dealt with just by the Village Board.
"I do not feel it is fair to this community for police officers to decide their own fate. Nor do I feel feel this board should make a decision about police coverage in this community," Gerber said. "I don't even feel it should be up to the new board. This situation come up once before and it was brought to a referendum for the people to decide."
But during discussion of the motion, objections were raised by some trustees.
Trustee Patrick Dunn contended it was improper for the board to hold a referendum on a decision about a contract.
Trustee Michael Decker, who did not run for re-election and also was at his last meeting, protested that the board should make the decision and not defer to a referendum.
"We have a seven-person board to make these decisions," Decker said. "We're elected, we're paid to make these decisions."
Decker went on to allege that some people on the board who were not re-elected — presumably including Gerber —  were now reversing their position on contracting with the sheriff's department.
"I understand that certain people on the board that go voted off kind of want to make a statement contradictory to where they were at two months ago," Decker said.
Eventually the audience got involved in the discussion and Gerber eventually withdrew her motion on the referendum.
Here is video of about 12 minutes of the back and forth that continued for about 30 minutes (Technical difficulties mean the video and audio are out of sync. Sorry about that. — DH):