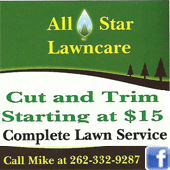 Note: All-Star Lawncare is a westofthei.com sponsor. — DH
A healthy, green, weed-free lawn requires homeowners get an early start. Proper attention now will allow you to enjoy a lush lawn this season.
Mike Rozell, owner of All-Star Lawncare, recommends having the lawn power-raked to remove dead grass. Nutralime can be applied to neutralize the Ph levels in the soil prior to using a granule pre-emergent with a boost of nitrogen to keep last year's crabgrass seeds from activating and stop other weeds from taking over.
However, pre-emergent should not be used in areas where grass seed is needed. When seeding the lawn, starter fertilizer – when applied properly by a professional –  will provide seedlings essential nutrients required to ensure quick growth.
All-Star Lawncare can help you with this and all of your other lawn and garden needs. The company has been locally owned and operated for more than 15 years, specializing not only in maintaining existing lawns, but also in the designing and planting of new lawns and decorative planting areas. Mike Rozell can help you choose which plants are appropriate for your budget, landscape and soil type.
Cut and trim lawn maintenance plans begin at $15. Free estimates are provided within 24 hours of calling 262-332-9287.    For more information, click here, or visit All-Star Lawncare on Facebook.