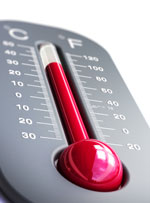 The high temperature should reach 60 hereabouts on Friday, the National Weather Service forecast says.
Through the weekend we will have days with highs in the 50s, with another day over 60 on Monday.
After that spell, temperatures appear ready to settle back down into the 40s for the balance of next week.
It should also be dry, with no precipitation in the forecast at this point through Thursday.