Firefighters, friends, family and the community gathered at Carthage College Siebert Chapel, Thursday, to say goodbye to Kenosha Fire Lt. Scott Schumacher, from Trevor, WI. Scott died February 25th after a long battle with cancer. He had been a member of the Harvard Fire Department for seven years and Kenosha Fire Department for 16 years. Scott was involved Kenosha Firefighters C.A. R. E. and Lakeland Little League.
International Association of Firefighters  5th District President Tom Thornberg and Professional Firefighters of Wisconsin President, Mahlon Mitchell presented the Martin Lee Pierce commemorative medal and line of duty death medallion.
The bagpipers who participated included the Kenosha Area Pipes and Drums Association, along with other musicians from places such as Milwaukee, Chicago, and Madison.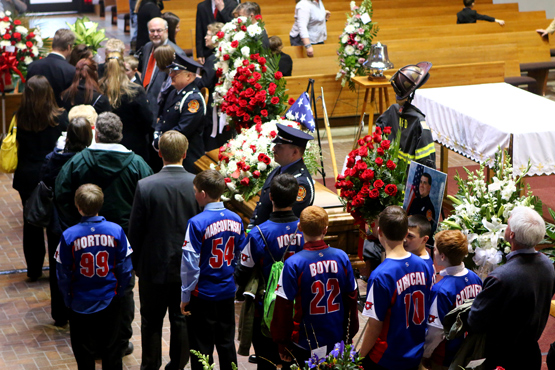 Lakeland Little League had a statement on their website.
Thursday, February 26
Scott Schumacher Announcement

The entire Lakeland family extends our condolences to the family of Scott Schumacher, who passed away after a courageous battle with cancer Wednesday.

Scott was a huge supporter of baseball in our community, helping make Lakeland run smoothly as a coach, manager, and the president-elect of our board of directors.

Scott was a man of service who gave his time generously and passed his expertise to countless young players. Though he managed some of our most advanced youngsters on district and travel teams, Scott particularly enjoyed working with players who were new to the game, teaching them with patience and compassion.

We will miss his tireless work ethic, his dedication, leadership and his love of the game.
Some of the Departments who participated were:
Town of Burlington Fire Department
Racine Co Sheriff
Kenosha Police Department
Racine Fire Department
Medical Director
Madison Fire Department
Tichigan Fire Company
Kansasville Fire Department
Huntley Fire Protection District
Scout Leaders Rescue Squad
Somers Fire Department
Silver Lake Fire Department
Twin Lakes Fire – Rescue
City of Burlington Fire Department
Town of Paris Fire Department
Winthrop Harbor Fire Department
Greenville Fire Rescue
LJH Ambulance
Spring Grove Fire Protection District
Cudahy Fire Department
South Shore Fire Department
Fox Lake Fire and Rescue
West Allis Fire Department
City of Waukesha Fire Department
West Bend Fire Department
Bristol Fire and Rescue
Woodstock Fire and Rescue
Gurnee Fire Department
Town of Salem Fire and Rescue
Town of Randall
Waukegan Fire Department
Caledonia Fire Department
Vernon Fire Department
Pleasant Prairie Fire and Rescue
North Chicago Fire Department
Kenosha Co Sheriff
McHenry CO Sheriff
Pleasant Prairie Police
City of Harvard Police
Harvard Fire Protection District