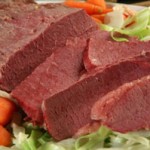 Scully's Silver Lake Grill and Silver City Suds are teaming up to raise money for The Sharing Center.
The food, raffles and fun benefit event will take place  Saturday, March 14 from 1 to 8 p.m., at Silver City Suds, 409 E. Northwater St., Silver Lake.
Tickets for $10 will be sold at the door. Dinner includes reubens, corned beef and cabbage.
All proceeds will go to Western Kenosha County's relief agency, The Sharing Center.