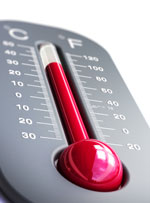 A long-awaited (by me anyway) warm-up in our local high temperatures will start today, says the National Weather Service forecast.
After weeks of temps mostly in the single digits and teens, Friday's high is forecast for 28. Then Saturday through Thursday will see highs in the 30s and 40s .
So what's the catch you might ask? Nothing really, it looks like. The only precipitation forecast at this point is a 20 percent chance of snow Sunday.
So go for a walk. Wash that car. Enjoy!