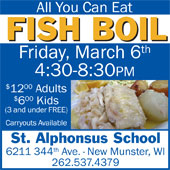 Note: St. Alphonsus School is advertising this event with westofthei.com — DH
St. Alphonsus School is once again hosting its famous Lenten fish boil. The fish boil will take place on Friday, March 6, 2015, from 4:30 to 8:30 p.m. at St. Alphonsus Parish Center, 6211 344th Ave., New Munster.
The fish boil features all-you-can-eat boiled fish, potatoes, onions, carrots, coleslaw, bread, dessert, milk and coffee. Grilled cheese sandwiches are also available. Carryouts are also available.
Ticket prices: Adults (12 & older) $11.00 in advance, $12.00 at the door, children (ages 4-11) $5.00 in advance, $6.00 at the door, ages 3 and under free. Advance tickets available in the school office.
For more information call St. Alphonsus School at 262-537-4379.