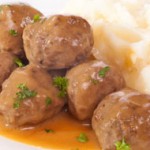 Salem United Methodist Church will be hosting their annual Smorgasbord and Silent Auction on March 8 from noon  to 4 p.m.  Ticket prices at the door are $9 for adults (14 and up), $7 for kids and seniors.  Children under 3 eat free.
Your ticket price will include roast beef, fried chicken, meat balls, vegetables, mashed potatoes and gravy, a wide variety of salads, desert and coffee.  Takeaway meals are available at the same price, with free delivery available.
Advance purchase tickets (eat-in only) are available at a saving of $1 per person.  Contact the church office for information: 843-2525.
Salem United Methodist Church is fully handicap accessible.  The church is located at 25130 85th St, in Salem.