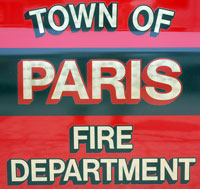 The Paris Fire and Rescue Department Fire Explorer Post is hosting an open house at 6 p.m. on Wednesday, Feb. 25, for those interested in joining the Explorer post.
Parents must attend with teens to fill out necessary paperwork for the Department. There will be food, beverages, and desert for those who attend. There will be a fire station tour, introduction to recent and past explorer members, and a question and answer session. And for those who would like, there will be gear races, and a try at basic patient care such as vitals.
Paris Fire Explorer program is open to teenagers between the ages of 14 and 18. The participants are trained by firefighters and emergency medical services personnel on basic aspects of both firefighting and EMS. (Things that can be done by those without certification.) This post provides Explorers with an inside look at the kind of responsibility you need for a firefighting or medical career. These skills can give teenagers an advantage and a better perspective when they begin their careers.
The Paris Fire and EMS Post has been active since the summer of 2009.
The Paris Fire Department is located at 16607 Burlington Road (Highway 142) in Paris.