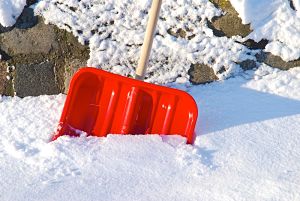 The National Weather Service has issued a winter storm warning for an area of Wisconsin including Kenosha County.
The warning will be in effect from midnight tonight until 3 a.m. Monday. Snow is expected to fall for about 24 hours. Snow accumulation totals are forecast in the range of 4 to 9 inches through Sunday night.
Winds from 15 to 20 mph with gusts as high as 30 mph throughout the storm warning period could produce significant blowing and drifting.
High temperatures are expected to be 33 today, 23 Sunday and 15 on Monday.
There could be even more snow coming after the storm. There's a 30 percent chance of snow Monday night, Tuesday and Tuesday night and a 20 percent chance of snow Wednesday.
The Wisconsin Department of Transportation issued the following advice about traveling during the storm:
A winter storm is expected to hit Southeast Wisconsin beginning at midnight and continuing until 3 a.m. on Monday. The Wisconsin Department of Transportation (WisDOT) is urging motorists to be cautious while traveling on the roadways. The storm is predicted to drop from 5 inches of snow north of Milwaukee and up to 9 inches in the southern Counties. This storm is hitting on Super Bowl Sunday and will impact drivers that are heading out to watch the game. Monitoring conditions and planning ahead will be warranted with party goers reminded to identify a designated driver if they will be drinking. Motorists should allow extra time when traveling and drive at speeds appropriate for the conditions. Conditions may vary with your final destination receiving heavier snow fall totals. Additionally, motorists should be mindful of their following distance. While following snowplows, state law requires drivers remain at least 200 feet behind an active plow. If you are in an accident, remember to stay in your vehicle, if appropriate, and alert law enforcement of the incident. Also, allow for potentially longer response times from police and tow truck operators due to a possible higher demand for services. Road conditions can be previewed ahead of time by calling 5-1-1 or on 511wi.gov."