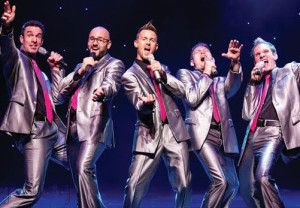 The Cat's Pajamas-Vocal Band, a high energy male a cappella group based out of Branson, MO, will be performing at Randall Consolidated School on Friday, Jan. 30, at 7 p.m. as part of their eighth annual Music in Schools Tour.
This tour brings student choral clinics, school assemblies, and evening shows to communities across the nation in an effort to raise money for music education programs. To date, The Cat's Pajamas have raised well over $70,000 for school music programs!
Their goal is to inspire students, generate increased excitement and passion for music, and encourage all youth and teens to get involved in the arts.
During the school day, the group will be teaching and mentoring students, focusing on singing techniques as well as sharing their personal journeys and testimonies about how they have turned their love for music into a professional career. During the evening performance, The Cat's Pajamas will put on a world-class show for the entire community, after which they will donate a portion of those profits directly to the Randall Consolidated School
The Cat's Pajamas received national acclaim on NBC's hit show "The Sing-Off: Season Three." More recently, they won the Chicago regional Harmony Sweepstakes in 2013. When they are not performing in Branson, MO or Atlantic City in New Jersey, they are cruising the world as guest entertainers on board Norwegian Cruise Lines.
The Cat's Pajamas perform pop classics from the 50s, 60s, and 70s as well as contemporary hits by artists like Jason Mraz, Michael Buble and Lady Gaga all in their innovative a cappella style. They appeal to any age and keep the crowd laughing, dancing, and singing along for the entire show.
Tickets are $15 each at the door.