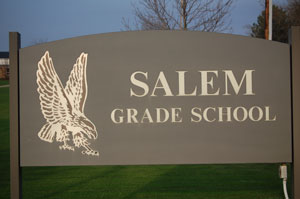 Parisa Anne Watson has been selected to fill a vacancy on the Salem School Board.
The vacancy was created by the resignation of member Kim McLeod for health reasons.
Watson will serve on the board until May, when board members elected in the April 7 election will start their duties. Watson is not on the ballot in the April school board election.
Three members of the School Board met Tuesday in a special meeting to interview candidates for the open position on the Board. Four applicants — Robert Spencer, Lukas Towry, Shane Gerber and Watson — were interviewed. Spencer and Gerber are on the ballot in April.
"It was a difficult choice, but Parisa is highly qualified to join the Board," said board President Jack Niccolai. "I was impressed by her desire to make Salem a great school for her children. She is truly invested in our school."
Watson took the oath of office at the end of the Tuesday eeting and will join the Board for their January meeting on Jan. 20.