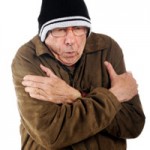 We will feel some of the first really cold days of this season Tuesday and Wednesday.
Today's high is expected to reach just 17, thoughh it will be sunny, says the National Weather Service forecast. Wind of 10 to 15 mph will mean wind chill facotr of -5 to 5.
Wednesday's high will be 16 with even stronger winds of 15 to 20 mph by the afternoon and hence lower windchills of -5 to -15.
Temperatures will begin to rebound Thursday with a high of 28 and 30 on Friday. A 30 percent chance of snow is in Saturday's forecast.