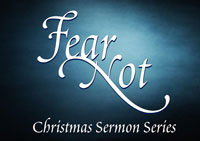 Pastor Cliff Hathcock of Community Baptist Church of Silver Lake continues a timely series of Christmas sermons themed "Fear Not!"this weekend.
"Have you ever felt that God's requirements are too extreme? Have you felt that, if God had understood your particular circumstance, He would not have included that one verse in Scripture? The next sermon in our 'Fear Not!' series reminds us through the angel's words to Joseph that our God knows exactly what He asks of us—and He is worthy of our obedient trust.
All are invited for a message of hope and challenge this Sunday at 10:30 a.m. at the Community Baptist Church of Silver Lake. The church is located at 203 N. Fourth St. For more information contact CBC at info@cbcsilverlake.org or call 262-889-4013.