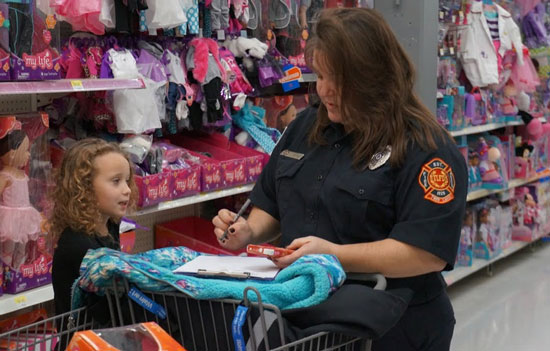 The 10th annual Shop with a Hero, organized by the Twin Lakes Professional Police Association (TLPPA), was held at the Walmart in Lake Geneva on Saturday, Dec. 13.
Counting this year, 286 children have been taken shopping since the Twin Lakes program started in 2004. This year 24 children were selected by Lakewood and Randall schools staff for good performance and other standards set by the schools. Each child was matched up with a Twin Lakes Police Officer, Emergency Dispatcher, EMT, or Firefighter and they were given $150 in spending money.
All the money was raised through donations from local businesses with a major donation from the Genoa City Lions Club in which many of the children bought presents for family and friends.
Volunteers from Randall School, Lakewood School and family members of the heroes wrapped the gifts purchased by the children.
After everyone was exhausted from shopping, Driftwood Restaurant in Twin Lakes hosted a free pizza party for all the children, their families and the Heroes.
This year student photographers Ashley Smith and Charlie Mohring from Wilmot High School assisted with taking photos during the event.