About 6 pm Wheatland Fire, Twin Lakes Fire and Rescue, and Silver Lake Rescue responded to a serious accident on Hwy 50, just west of Hwy 83 north. The car was reported to be on fire and the people inside had to be extricated.
Flight For Life was called, but waved off just before landing. Randall Fire responded for the landing zone.
Hwy 50 westbound is closed. The Kenosha Sheriff's Department is investigating.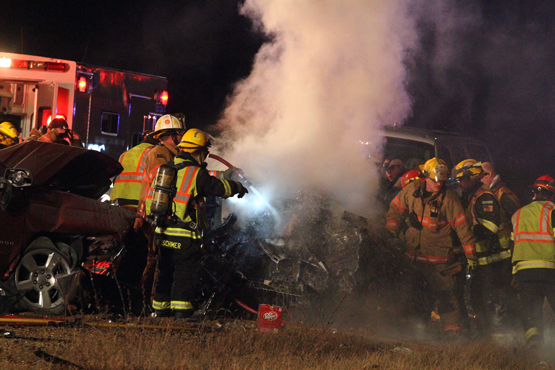 Hwy 50 opened up 9:50 pm.
UPDATE 10:34 p.m. — Two people died, one seriously injured in this crash. The Sheriff's Department press release.
On 12-06-14 at 1800 hours Kenosha County Sheriff's Deputies responded with the Wheatland and Randall Fire Departments, Silver Lake Rescue, and Twin Lakes Rescue to a fatal crash on STH 50 west of STH 83 (North).  The crash occurred in approximately the 34500 block of the westbound lanes of the divided highway.
At the time of the crash, a pick-up truck was traveling eastbound in the westbound lanes of traffic.  The eastbound pick-up truck struck a westbound car in a head on collision.  Traffic on the westbound lanes of STH 50 was subsequently re-routed while emergency personnel were on scene and during the investigation of the crash. STH 50 westbound, west of STH 83 (North) remains closed at this time.  Wisconsin State Patrol assisted in the crash investigation.
The male driver of the car sustained severe injuries.   The driver was transported by ambulance to Burlington Hospital and later succumbed to his injuries.  The male passenger in the westbound car sustained fatal injuries during the crash.  The male driver of the pick-up sustained severe injuries. He was initially transported by ambulance to Burlington Hospital and later flown by Flight for Life to Froedtert Hospital. His condition remains critical.  Alcohol impairment appears to be a contributing factor.     
The cause of the crash is still under investigation.
The names of the involved parties are being withheld at this time pending family notifications.  Names will be released as soon as practical.