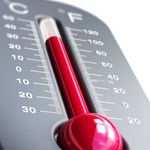 Monday will be a cold one, the National Weather Service forecast says.
But that should be it for the week, with temperatures in the 30s and even 40s by the weekend.
Temperatures were falling all day Sunday. Monday's high is forecast to be just 16, with a low Monday night of 8.
But things should improve from there, with Tuesday's high bouncing back to 33. Wednesday, Thursday and Friday should have high temperatures in the 30s. Saturday and Sunday's highs look to be in the 40s.
At this point, there is no precipitation of any kind in the forecast through next Sunday.