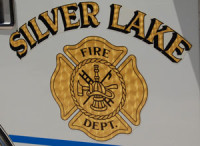 The Silver Lake Village Board approved the creation of a committee to make a recommendation to the board on an individual to hire as a part-time fire chief to lead the Silver Lake Fire Department.
Trustee Roger Johnson, the chairman of the Emergency Services Committee made the motion to create the committee. He presented the following make-up for the seven-member committee:
Three members from the Silver Lake Fire Department.
Three fire chiefs from neighboring fire departments.
Silver Lake Police Chief Andrew Trudeau.
Johnson.
The three members of the SLFD would have one collective vote and Johnson would not be able to vote on committee business.
During discussion of the committee, Trustee Patrick Dunn asked that Trudeau be removed from the committee because comments he has made show him to be biased against some department members that might apply for the position. Johnson agreed to the change and said another neutral party will be sought to fill Trudeau's seat.
When members of the audience suggested that creation of the committee should wait until present Chief Allison Draeger was done being chief, Johnson pointed out Draeger was not qualified to be chief under the department's own standard operating procedures. The SOPs say a chief should have experience as an officer before being considered as chief.
Draeger was elected chief by the department membership this summer and began acting as chief after the resignation of Chief David Kordecki, who was appointed by the board in June. Kordecki resigned in July. The fire department had objected to the hiring of Kordecki by the Village Board with no input from the department.
No timeline for coming up with a recommendation on a fire chief was revealed.
UPDATE — Trudeau issued the following statement (via email):
"I assisted them in getting a municipal common hiring process outlined for the Fire Chief position and was a key role in getting this process moving forward. Now given the fact they want a fourth outside member to be on the panel to take my place I think that will be a struggle to get this accomplished. Getting that many qualified outside members to be involved with this process will be very difficult in my opinion. I knew it would be hard getting three Fire Chief's on board given the political climate, but I had made good progress to try and make that happen. I do not think some people have thought through how much leg work needs to still be done to make this a reality. Since I have been taken out of the committee I hope Trustee Pat Dunn steps up to the plate for the village to get this task accomplished since he has taken such an interest in this issue as they will need all the help they can get to make this happen."