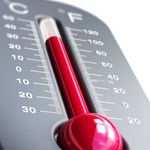 The National Weather Service forecast for today features temperatures that will fall through the day, rain and maybe even a little snow.
At 5:30 a.m., temperature at Kenosha Regional Airport is 47. That's the warmest it should be all day, with temps reaching the mid 30s by this afternoon.
There's a 90 percent chance of precipitation, with rain most likely starting around 8 a.m. That may change to snow in the late afternoon, but there is no accumulation expected.
High temperatures through Monday are expected to be around 30, with no signs yet of rain or snow.